---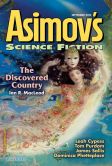 Click here if you'd like to read the opening of my latest science fiction story. It's a short story entitled "A Stranger from a Foreign Ship" and it appeared in the September 2013 issue of Asimov's science fiction magazine, which can still be purchased as an ebook from Amazon and Barnes and Noble. Click here if you'd like to read a bio that summarizes my writing career and my totally unscandalous personal life. You'll find more biographical information under Where are you from?, Recent Science Fiction, Friends and Relations, my complete bibliography, and the first ten installments of my attempts at a literary memoir.

The rest of this site is a grab bag containing stuff culled from my activities as a science fiction writer, music critic, arts writer, and general freelance writer. The science fiction section contains a bibliography of my recent SF, excerpts from stories, and the complete text of my first story. FAQs includes answers to some of the questions people tend to ask writers, such as How much do you make?, Where do you get your ideas?, and How do you submit manuscripts to editors? The music writing section includes excerpts from reviews, articles on female percussionists and the art of the accompanist, and other items collected from twenty-five years of writing about music and the arts. The essays include a memoir on model airplanes, some advice for parents, and a good natured look at the evolution of grownup sex appeal.

ELECTRONIC REPRINTS

Electronic reprints of my stories can be purchased from the Barnes and Noble Nook store and Amazon's Kindle store. The Nook items can be read on the iPad by downloading Barnes and Noble's free app. I've put together a catalog that tells you what's available where.

ANTHOLOGY REPRINTS

My Asimov's novelette "A Response from EST17" is currently available in the 2012 edition of Gardner Dozois' The Year's Best Science Fiction. My time travel novelette "The Mists of Time" can be found in the 2008 edition and a recent Audiotext audio book anthology Timeless Time Travel Tales. "Palace Resolution", originally published in Gregory Benford's Microcosms has recently been reprinted in War & Space: Recent Combat, Rich Horton and Sean Wallace, eds. My Hugo nominee Fossil Games can be found in Gardner's landmark anthology Supermen: Tales of the Posthuman Future and David G. Hartwell's Year's Best SF 5. I also have stories in several older anthologies that may still be available: Space Soldiers, Year's Best SF 3, Isaac Asimov's Valentines, Isaac Asimov's Utopias, and the 2006 Edition of Rich Horton's Science Fiction, the Best of the Year.

LITERARY MEMOIR

I'm writing a literary memoir which I'm publishing here as I finish each segment. Each section tells how I wrote particular stories-- how I got the idea, the literary problems I dealt with, and so on. The first installment covers my first story and the beginning of my writing career. Installment two discusses three stories I wrote when I was hanging around Philadelphia coffeehouses in the late 50's. Three discusses my only psi story and the factors, such as my relationship with my wife, that influenced it. Four discusses my Casanova series and tells how I started writing short fiction again after a long break, and how I became a music critic. Five concludes the discussion of the Casanova series. Six discusses my first "military brat" story. Seven discusses my second and third military brat stories. Installments eight, nine, and ten tell how I wrote and sold the three novels I contributed to the Ace Double series. I'm also posting my first story, "Grieve for a Man". Several installments have been reprinted in The New York Review of Science Fiction. The entire opus is also available on the Nook and the Kindle, for those who prefer the convenience of an ereader..

MEANDERINGS

I usually attend the monthly meetings of the Philadelphia Science Fiction Society, which normally meets on the second Friday of each month. I'll be autographing at the Asimov's booth at the Brooklyn Book Festival on September 22, 2013 and I'll attend the Philadelphia Science Fiction Conference , as I do almost every year, in November.
E-mail address: tompurdom@verizon.net

Asimov's cover copyright 2013 by Dell Publishing. Used with permission of the publisher. All rights reserved.

Page last updated September 15, 2013